Professional Flooring Installation and Repairs in Marriottsville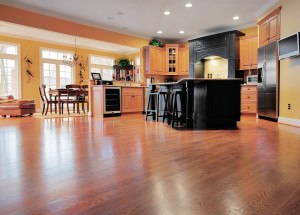 One of your biggest priorities as a homeowner is making sure that your home is comfortable and attractive, and your flooring plays a huge role in keeping it that way. At Shore Side Carpet & Flooring, our professional Marriottsville flooring installation and repair experts know how important your flooring is to your home, and we're dedicated to making sure that each of our clients receives high quality workmanship and and service at every single job that we perform. Whether you're looking to install brand new flooring throughout your home or you need repairs or refinishing services, you can always rely on our professionals for excellent service.
All of our flooring experts are licensed professionals with extensive training and experience, so when you hire us, you'll know that you're working with a flooring contractor you can trust. We can always guarantee your complete satisfaction with the products and services that we provide, and we'll always be ready to provide you with the best possible workmanship.
Give us a call today to schedule your appointment, or to ask any questions you have about the products and services that we provide, and we'll be looking forward to assisting you.
Hardwood Flooring Installation and Restoration in Marriottsville
If you're looking for a flooring material that can improve and enhance your home's aesthetic design while increasing its resale value, hardwood flooring is an excellent options. Our professionals can provide you with a professional installation of the highest quality hardwood flooring materials on the market, and we'll be able to help you select the best hardwoods for your Marriottsville home.
Hardwood flooring can become damaged and worn over time, especially if it's in a high-traffic area. If your hardwood flooring has become lackluster in appearance or quality, call our professionals for restoration or refinishing services. We'll work hard to make sure that your flooring looks its best and has the longest lifespan possible.
Marriottsville Vinyl and Laminate Flooring Services
Vinyl and laminate flooring materials are attractive, durable, and affordable, which makes them some of the most popular types of flooring there are. They are a perfect choice for bathrooms, kitchens, mudrooms, or laundry rooms, as well as any other room in your home where flooring may be easily damaged by moisture. We carry a wide variety of different vinyl and laminate flooring options, and we'll work with you to select the perfect flooring materials for your Marriottsville home before we provide you with a quality installation.
Our vinyl and laminate flooring materials come in a number of different styles and designs, so you'll always be able to find the perfect addition to your home.
See What Customers in Marriottsville, MD are Saying About Us
Shore Side Carpet & Flooring is not rated in Marriottsville yet! Check back soon for reviews and testimonials in Marriottsville.
---
If you are looking for a Mariottsville, MD Flooring Company then please call 410-643-5000 or complete our

Online Request Form