Crofton's Premier Resource for Hardwood Flooring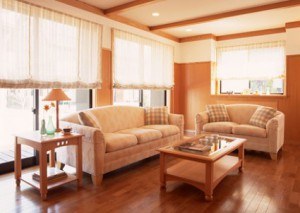 When considering home improvements, one popular choice is to install new flooring. As far as flooring upgrades go, hardwood is regarded as the top of the list. Hardwood flooring offers a number of advantages to any interior space. It is elegant and sophisticated, providing an ambiance that is both warm and refined. Hardwood is also much easier to clean and maintain, and lasts longer than many other flooring types. If you are in the market for high quality hardwood flooring, you need to call Shore Side Carpet & Flooring.
We have proudly served countless Crofton residents with gorgeous hardwood flooring. We utilize our twenty years of experience in the flooring industry to provide the fastest installations of the highest quality products around. Our superior selection of wood types and wood grains, combined with the expert skill of our professional installers will make your hardwood flooring experience a great one. When working on an installation, we work hard to minimize imposition on your living situation, so our work area will be kept tidy and well contained. When we are done, the only thing left behind will be a gorgeous hardwood floor. That is why we are the top choice in Crofton for hardwood flooring.
Aside from sales and installation, we also offer hardwood refinishing. Hardwood floors are designed to offer many years of service. Just because your hardwood suffers from deep cuts, scuffs and dents, doesn't mean it must be replaced. The hardwood flooring specialists at Shore Side Carpet & Flooring can refinish it, using state of the art technology and timeless techniques. Our restoration of your floor's former beauty will allow you many more years of enjoyment before replacement is necessary. So be sure to call us for all of your hardwood flooring needs in Crofton.
The Most Reliable Carpet Installation in Crofton
Carpet flooring is a classic and popular flooring choice all over the country. It is affordable, relatively easy to install and comes in a wide variety of colors and textures. With carpet, you can completely transform your interior, just by choosing a new color or a longer strand length. Carpeting also provides warmth and lends a cozy nature to a room that makes it so much more welcoming. Carpeting is also ideal for families with children as it softens slips and falls. If you would like to be among the many households in Crofton that enjoys quality carpet flooring, call the carpeting experts at Shore Side Carpet & Flooring.
We have the biggest selection of virtually unlimited colors, textures and patterns of high quality carpeting. Our talented Crofton installers also provide fast and accurate carpeting installation for as many rooms as you need. If you are looking for an affordable way to really make a big impact on the look of your home, call us today.
The best part about shopping for carpeting from Shore Side Carpet & Flooring is that we don't make you come out to a showroom. We bring our samples right to your door so you can see what they'll look like in your home environment. Our professionally trained designer will also have plenty of helpful suggestions to assist you in determining the perfect carpet for your space.
See What Customers in Crofton, MD are Saying About Us
Shore Side Carpet & Flooring is not rated in Crofton yet! Check back soon for reviews and testimonials in Crofton.
---
Recent Articles
6 Types Of Carpet Fibers For Your Maryland Home

Did you know there are differences in carpet fibers? Many people will pick out carpeting without knowing there are options. The type of carpet fiber forms the basis of how well the carpeting will stand up, what you can expect from it in terms of strength, how it feels under your feet, and how easy…

Choosing the Right Carpet for Your Home

Carpet can provide an attractive, lush, and cozy addition to just about any room in your home. This flooring option is often a much more affordable alternative to wood and tile floors, and helps create a warmer environment, with much greater noise reduction than you will see with these other options. Carpets also have the…
If you are looking for a Crofton Flooring Company then please call 410-643-5000 or complete our

Online Request Form