Enhance Your Bowie Home with Hardwood Flooring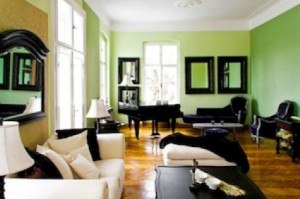 If you are looking to really improve your interior, hardwood flooring is a great option. Bowie Hardwood floors offer a rich and elegant ambiance to any interior. The wood grains have a character all their own and the warm and sophisticated environment they create cannot be easily imitated. This is why hardwood flooring is a growing flooring option in Bowie. If you are looking for high quality, durable and long lasting hardwood floors, call the flooring experts from Shore Side Carpet & Flooring.
For two decades we've crafted our expertise in the flooring industry and we offer a wide range of hardwood flooring services to the people of Bowie. We have a vast selection of hardwood flooring types, from softwoods to hardwoods, domestic and exotic. We also offer fast and precise installation performed by some of the most talented and dedicated technicians in the industry. Our design team is also highly skilled at helping you determine what hardwood type would work best in your interior. That is why we are the number one choice in Bowie for hardwood flooring.
Aside from the sale and installation of hardwood floors, we also offer hardwood refinishing. Many types of hardwood are designed to be extremely durable and long lasting. These hardwood types may have sustained deep scratches, scuffs and dents, but they can be restored to their former beauty. Our flooring technicians possess the special tools and knowledge necessary to refurbish your hardwood flooring so you get many more years of use out of it. Call on Shore Side Carpet & Flooring for all of your hardwood flooring needs in Bowie.
Carpet Installation Done Right in Bowie
Carpet will always be the most popular and common household flooring option in the country. That is because it is extremely affordable and relatively easy to install. Carpeting also has a number of benefits that may not seem apparent at first glance. For starters, carpet is extremely versatile, as it comes in virtually any color, texture and strand length. From colored patterns to shag length strands, your customization options are limitless. Carpeting is also better for indoor air quality, as it doesn't harbor as many volatile chemicals as other flooring types. It creates a great sound buffer and also softens slips and falls, making it ideal for families with small children.
If you need high quality carpeting installation in Bowie, Shore Side Carpet & Flooring are the right experts to call. We have a large selection of all colors, patterns, textures and types of carpeting to choose from. We also have some of the fastest and most well-trained installers in the business. We have the perfect carpet for your space and can have it installed in record time.
When you call Shore Side Carpet & Flooring to explore what carpeting can do for you, we don't make you come to a showroom. We bring our selections to you and provide for you a convenient in-home or showroom shopping experience. We'll send a designer over to you with plenty of samples, so you can see what the carpet looks like right there in your lighting, next to your décor and design elements. Our professionally trained designer will help with suggestions and work with you to find the perfect carpeting. Then, our installers will quickly apply your new carpeting to as many rooms as you wish. If you are looking for an affordable way to totally transform your home, call Shore Side Carpet & Flooring and schedule a carpeting consultation today.
See What Customers in Bowie, MD are Saying About Us
Shore Side Carpet & Flooring is Rated: 5 / 5
based on this 1 happy customer review.
---
"We needed carpeting throughout most of the downstairs due to the dogs. After being referred to Shore Side by a friend, they came out and measured. What I liked most about them was that they really listened to our needs and concerns about the dogs, and made a recommendation that we really loved. Installers came and did great job, quick and neat. We will be calling them back when its time to do the sun room.Just had the sunroom done! Wow, what a difference. And these guys were again super professional. Even called me with over an hours notice that they were running just 5 minutes behind from another job. Keep up the good work, Shore Side! AND GLAD YOU SERVICE THE WESTERN SHORE TOO!"
Recent Articles
Will New Flooring Be Part of Your Remodeling Project

Whether you are remodeling or building an addition to your home, part of the process will be making decisions about new flooring. In fact, your entire home improvement project might be installing new flooring in some part of your house. You may be considering replacing the old, worn flooring with a newer version of the…

Choosing the Right Carpet for Your Home

Carpet can provide an attractive, lush, and cozy addition to just about any room in your home. This flooring option is often a much more affordable alternative to wood and tile floors, and helps create a warmer environment, with much greater noise reduction than you will see with these other options. Carpets also have the…
If you are looking for a Bowie, MD Flooring Company then please call 410-643-5000 or complete our

Online Request Form