Stevensville's Number One Resource for Quality Hardwood Flooring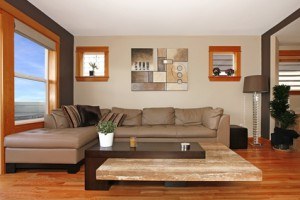 Authentic Stevensville hardwood floors are timeless and beautiful, enhancing any interior design. The classic look has been considered an ideal flooring option for generations and it is very popular in Stevensville homes. Because of the variety of wood grain options given by different types of wood, no two hardwood floors are the same. This makes every hardwood floor, and the home it is installed in, unique. Beyond the elegant aesthetics a hardwood floor provides, it is also easy to clean and maintain. These are all reasons why people who have hardwood floors love them, and people who don't typically want them.
If you are looking for high quality hardwood floors, Shore Side Carpet & Flooring are the experts to call. We have the widest selection of hardwood floor options in Stevensville and our stock is superior. We also offer expert installation performed by highly trained professionals. Our installers aim to impose as little as possible on your living environment, so they keep a well contained work area and complete the task quickly and with precision. That is why we are the top choice in Stevensville for hardwood flooring.
At Shore Side Carpet & Flooring we strive to offer the widest variety of hardwood flooring services possible to Stevensville homeowners. We offer hardwood sales as well as installation, but we also offer hardwood refinishing and flooring refurbishing. So, if you have old or worn hardwood flooring, or your hardwood has been damaged, we can restore your floors to their former beauty. We'll revitalize your hardwood and make it look as good as new again. Shore Side Carpet & Flooring can see to all of your hardwood flooring needs.
Stevensville's Number One Carpet Installers
Carpet is not only the most common flooring type in the country, but also one of the most versatile. Carpeting can come in virtually any color or texture, making it a great choice for customization purposes. It is also one of the most affordable flooring types out there. Shore Side Carpet & Flooring has a wide selection of carpeting options to choose from. We also have a team of trained installers that quickly and accurately can cut the perfect size carpet and apply it to your flooring in no time.
Carpeting is a great flooring choice because it has several subtle and often unnoticed advantages over other flooring. First, carpet is far more versatile from a design standpoint. The variety of colors, textures and strand lengths available allow for total customization that will match any décor. Also, carpeting is better for your indoor air quality. Other flooring types release many more volatile chemicals into the atmosphere, but carpeting has the lowest VOC's of any other flooring on the market. Carpeting also helps keep you warmer because it has a high thermal resistance. Furthermore, carpet offers sound dampening and softens falls and slips.
There are many advantages to carpeting, but the best way to decide if it is right for your Stevensville home is to have a designer come and show you carpet samples. After collecting a small amount of information from you over the phone, our talented Stevensville designers will bring to you a number of relevant carpeting samples so you can see them first hand inside your home environment. When you are considering new flooring, call Shore Side Carpet & Flooring and explore what our carpeting can do for you.
See What Customers in Stevensville, MD are Saying About Us
Shore Side Carpet & Flooring is Rated: 5 / 5
based on these 3 happy customer reviews.
---
"Our sales person Lou was very thorough and asked a lot of great questions to steer us in the right direction with our product selection. He worked with us closely to ensure that the installation was completed within the tight time frame we were working within. They were not the least expensive of the options we were looking at but they were the most responsive and took the extra time to educate us on the best quality carpet for our budget. Great job!"
"Great working with Vinnie and Lou! They had great recommendations and made my rental basement look fantastic!"
"I was on a tight time frame with new house purchase and they were quick to schedule the work, started and finished ahead of schedule did a great job and beat all other flooring companies price"
Recent Articles
Hardwood Flooring 101: How To Make The Most of Your Floors

A considerable amount of time and research should be done before you ever invest in hardwood floors. The key thing to remember is that hardwood completely transforms your room in a way that distinguishes it from other types of flooring. Most homeowners have a general understanding of the kind of look they're trying to achieve…

Professional Hardwood Flooring Installation Over Concrete

Hardwood floors are the right choice for many homeowners. They come in a wide variety of wood species, grains, and stains for a unique finish. Hardwood flooring feels great under the feet and looks fabulous in any home. If you are a hardwood flooring lover as so many are, you may be wondering if it…
If you are looking for a Stevensville Flooring Company then please call 410-643-5000 or complete our

Online Request Form