Get Quality Vinyl Flooring for Your Maryland Home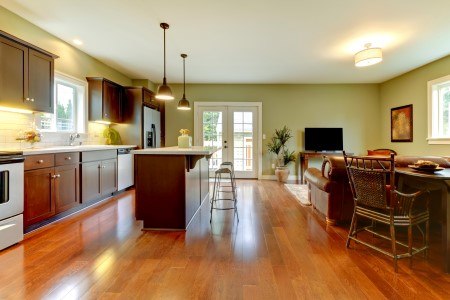 Over time, your flooring is going to look far from its best -- unsightly even. When your flooring looks unsightly, your entire home is going to look the same. So, when your floors reach such a state, you'll want to act quickly to get them replaced with something that's going to get your home looking its best once more.
If you're looking to get beautiful new flooring for your home in the Shore Side area, you should consider getting vinyl flooring. Coming in a virtually endless array of colors, patterns, and designs, vinyl flooring will help to make your home pop with beauty. What's more, vinyl offers a number of great benefits that you'll enjoy for years to come.
Enjoy the Benefits That Vinyl Flooring Has to Offer
While it's true that your flooring should work to make your home look beautiful, aesthetics aren't all that you should look for when shopping around. After all, the right kind of floor can offer both a beautiful look for your home and a number of great benefits. When it comes to benefits, you can't beat vinyl flooring for all it has to offer:
Durability
Comfortable
Affordable
Your home is one of the most important investments you'll make, and it's the place where you're likely to spend the great majority of your time. So, you should deck it out with nothing but the best installations. When it comes to its flooring installation, you'll find that just about the best is none other than vinyl flooring.
Keep Your Home Looking Beautiful with Vinyl Flooring
Still, it's important that you keep your home looking beautiful. A beautiful home is a happy home, after all -- not to mention a valuable one. So, when it comes to your flooring, you should look for something that's simply stunning. From laminate to carpet, there are many great-looking options out there. However, you may find vinyl to be your best choice for a number of reasons:
Available in a variety of designs
Resistant to scuffs and wear
Bright and appealing to the eye
Unbeatable Work from Our Experienced Maryland Flooring Company
If you're ready to enjoy all of the aesthetic and practical benefits that vinyl flooring can bring to your home, you need to call the pros at Shore Side Carpet & Flooring today. Our experienced flooring experts have the know-how and the resources to outfit your home with the best and most beautiful vinyl flooring.
Recent Articles
Tips On Making Decisions About Flooring
With so many differty types of floor materials available, it's no wonder homeowners often have trouble making decisions about what type of flooring they want to install. If you're planning to install new carpeting or hard floors in your house, everything is pretty much wide open…
Read More
6 Types Of Carpet Fibers For Your Maryland Home
Did you know there are differences in carpet fibers? Many people will pick out carpeting without knowing there are options. The type of carpet fiber forms the basis of how well the carpeting will stand up, what you can expect from it in terms of strength, how it feels under your feet, and how easy…
Read More