Tips On Making Decisions About Flooring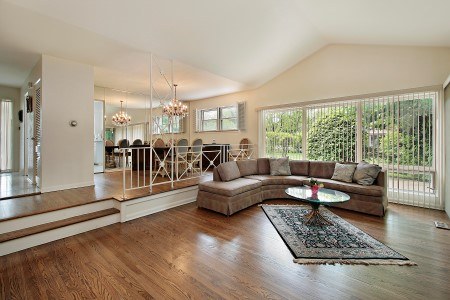 With so many differty types of floor materials available, it's no wonder homeowners often have trouble making decisions about what type of flooring they want to install. If you're planning to install new carpeting or hard floors in your house, everything is pretty much wide open.
You may not yet have a flooring company on hand to answer any questions you may have about the myriad of flooring options. Meanwhile, you're getting a little overwhelmed by the hundreds of different carpet fibers, loops, and weaves to choose from as well which type of hard floor is waterproof and best for the bathrooms and kitchen.
Here are a few tips that can help when making decisions about flooring for your home.
Tips On Choosing Carpeting
Carpet Patterns - Wall-to-wall carpeting can be a great choice for any home. However, it can show seams, especially when the carpet fibers aren't as plush and dense as they could be like the quality brands are. I might be a good idea to install a lower pile carpety style with a combination of textures and patterns which will help to minimize soil and vacuum marks.
Consider Any Fire Hazards - If you have a wood-burning fireplace, take into account that fire sparks can damage carpet, vinyl and wood floor coverings. But more importantly, it can be a fire hazard. Get a well-made screen for the fireplace, and use stone or a fireproof throw rug in the area closest to the fireplace.
Synthetic Carpeting - While wool is one of the best types of carpeting you could choose because of its rich colors, easy care and maintenance, and extreme durability, there are some great new synthetic carepts available today. In fact, you can get completely waterproof carpeting that feels like silk underneath your feet. Always consider what's right for you and your lifestyle as well as your budget!
Hardwood, Waterproof, and Other Hard Flooring
Consider Your Pets - Take your pets into consideration when choosing new flooing. For instance, carpeting with looped fibers may not be the best choice if your pet's claws are tiny and they get caught in the loops. You can ask your flooring company which is the best carpeting for pets if you would rather not have hardwood, tile, or some type of waterproof flooring.
Consider Stains and Cleaning - Beautiful, dark hardwood floors are always going to be a great choice for remodeling modern homes. The problem is how easily the dust bunnies and dirt show against a dark floor. Consider a lighter tone if you're not into dust mopping every day, especially if you have furrty friends who shed in the house!
Consider Allergies - If you have allergies, be sure to consider choosing hardwood or engineered flooring of some type to avoid the collection and spreading of allergens. Unlike carpeting, these floors will repel the dust and allergens so that they can easily be vacuumed away.
Consider the Size of The Room - If you choose floor tiles, you may want to lay them in a diagnoal pattern so that it makes a small room look bigger. Be sure to consider alternatives like this when choosing between all the different flooring types. You can do so much with flooring if you plan everything out right and make wise decisions!
If you are looking for a flooring company in the Maryland area, please call Shore Side Carpet & Flooring at 410-643-5000 or complete our

Online Request Form