Top Quality Hardwood Flooring in Severna Park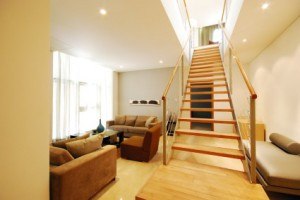 Hardwood flooring in Severna Park has been considered a home flooring upgrade for generations. It is both classic and timeless, and lends a look of elegance and refinement to any interior space. Hardwood floors can be made of a number of wood types, some softwoods and some hardwoods, each with a different wood grain pattern. This makes hardwood flooring unique, so no two floors are ever identical. If you are looking to add class and sophistication to your interior space, call Shore Side Carpet & Flooring for high quality hardwood flooring options.
We have the widest selection of hardwood floor types in the Severna Park area. Our flooring is a superior quality, extremely durable and long lasting. We also have a dedicated team of professionally trained installers that will quickly and accurately install your flooring. We work hard to minimize imposition on your living environment, so we keep our work area tidy and well contained. When we complete our job, the only thing we leave behind is a stunning new hardwood floor. That is why we are the top choice in Severna Park for hardwood flooring.
Not only do we offer new hardwood flooring installation, but we also provide hardwood refinishing. We have over two decades of experience in the flooring industry, so we have the skills, experience and tools necessary to restore your worn or damaged hardwood floors. Whether you suffer from deep scratches, scuffs or dents, we can get your hardwood looking like new again. So, call Shore Side Carpet & Flooring for all of your hardwood flooring needs in Severna Park.
Carpet Installation Done Right in Severna Park
Carpet will always be the most popular and common household flooring option in the country. That is because it is extremely affordable and relatively easy to install. Carpeting also has a number of benefits that may not seem apparent at first glance. For starters, carpet is extremely versatile, as it comes in virtually any color, texture and strand length. From colored patterns to shag length strands, your customization options are limitless. Carpeting is also better for indoor air quality, as it doesn't harbor as many volatile chemicals as other flooring types. It creates a great sound buffer and also softens slips and falls, making it ideal for families with small children.
If you need high quality carpeting installation, Shore Side Carpet & Flooring are the right experts to call. We have a large selection of all colors, patterns, textures and types of carpeting to choose from. We also have some of the fastest and most well-trained installers in the business. We have the perfect carpet for your space and can have it installed in record time.
When you call Shore Side Carpet & Flooring to explore what carpeting can do for you, we don't make you come to a showroom. We bring our selections to you and provide for you a convenient in-home or showroom shopping experience. We'll send a designer over to you with plenty of samples, so you can see what the carpet looks like right there in your lighting, next to your décor and design elements. Our professionally trained designer will help with suggestions and work with you to find the perfect carpeting. Then, our installers will quickly apply your new carpeting to as many rooms as you wish. If you are looking for an affordable way to totally transform your home, call Shore Side Carpet & Flooring and schedule a carpeting consultation today.
See What Customers in Severna Park, MD are Saying About Us
Shore Side Carpet & Flooring is Rated: 5 / 5
based on this 1 happy customer review.
---
"I called to book an appointment after hearing about Shore Side at work. I had already had 3 companies out and was ready to make a choice, but I figured whynot have Shore Side out too. Vinny came out with samples and gave me a price on the spot. He explained the carpets and gave me more info then all 3 companies before him. Best of all, his price was in line with the company I was leaning towards. In turn, I decided to go with Shore side carpet and am pleased I did. The install went smooth and was completed in one day. The carpet exceeded our expectations! We would recommend Shore Side Carpet and Vinny to anyone!"
Recent Articles
Style Watch 2018 – What's New With Flooring Trends

If you are someone who is concerned about your Maryland home being in fashion, then you are probably the type of person to watch for emerging style trends. What surprises many people is just how many options there are for exciting flooring looks, and how your own choices can drastically effect the finished appearance of…

How to Find the Right Flooring Contractor

If you are planning to redo the flooring in your Maryland home or install flooring in a home addition, one of the most important decisions you will make will be the contractor you hire. There are several crucial considerations in choosing a flooring contractor. The first step in the process is finding good contractors to…
If you are looking for a Severna Park Flooring Company then please call 410-643-5000 or complete our

Online Request Form