Baltimore's Number One Resource for Quality Hardwood Flooring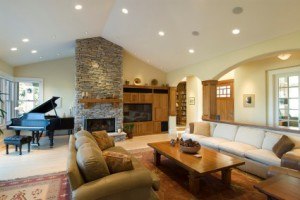 Authentic hardwood floors are timeless and beautiful, enhancing any interior design. The classic look has been considered an ideal flooring option for generations and it is very popular in Baltimore homes. Because of the variety of wood grain options given by different types of wood, no two hardwood floors are the same. This makes every hardwood floor, and the home it is installed in, unique. Beyond the elegant aesthetics a hardwood floor provides, it is also easy to clean and maintain. These are all reasons why people who have hardwood floors love them, and people who don't typically want them.
If you are looking for high quality hardwood floors, Shore Side Carpet & Flooring are the experts to call. We have the widest selection of hardwood floor options in Baltimore and our stock is superior. We also offer expert installation performed by highly trained professionals. Our installers aim to impose as little as possible on your living environment, so they keep a well contained work area and complete the task quickly and with precision. That is why we are the top choice in Baltimore for hardwood flooring.
At Shore Side Carpet & Flooring we strive to offer the widest variety of hardwood flooring services possible to Baltimore homeowners. We offer hardwood sales as well as installation, but we also offer hardwood refinishing and flooring refurbishing. So, if you have old or worn hardwood flooring, or your hardwood has been damaged, we can restore your floors to their former beauty. We'll revitalize your hardwood and make it look as good as new again. Shore Side Carpet & Flooring can see to all of your hardwood flooring needs.
Fast & Effective Carpet Installation in Baltimore
Carpeting is one of the most popular flooring types in the country. This is because it is extremely economical as well as aesthetically versatile. Carpet can come in virtually any color, texture or strand length, allowing for customization that will match any décor. When you need high quality, long lasting and durable carpeting, Shore Side Carpet & Flooring should be the first place you call. We have decades of flooring experience and we have built a reputation on superior quality flooring products. Our carpeting selection is extremely large and our Baltimore installers possess the proper tools and experience necessary to install the perfect carpet for your space.
When you call us for carpeting, we offer the most convenient shopping experience around. We bring our showroom of carpeting to your door. We'll send a designer to you with plenty of samples so that you can see your carpeting options in person, right next to your current décor elements. Our professionally trained designer also has plenty of helpful suggestions to really assist in determining the perfect carpet for your home. When you have chosen the product that is right for you, we'll have our installers quickly and accurately install your new carpeting.
If you are looking for an affordable way to transform the look of your Baltimore interior, new carpeting is a great choice. By simply changing the color of your floors, you can make a room vibrant or relaxed. If you want to explore what carpeting can do for you, call Shore Side Carpet & Flooring today.
See What Customers in Baltimore, MD are Saying About Us
Shore Side Carpet & Flooring is Rated: 5 / 5
based on this 1 happy customer review.
---
"I LOVE MY FLOOR and IM GLAD I HAD THE CHANCE TO MEET THEM FROM SHORE SIDE FLOORING AN I WOULD ALSO LIKE TO TELL MR. RON FOR THE GREAT JOB HE DONE A TWO MAN JOB AN ONE MAN DID IT THANKS SHORE SIDE FLOORING AN CUDO'S MR RON"
Recent Articles
Is Hardwood Flooring Right for You?

Hardwood flooring lends a home an atmosphere of elegance as well as extra durability that tiles and carpeting cannot match. Although it may be a bit more expensive, it is a definite home upgrade, as authentic wood creates a relaxing yet sophisticated ambiance as well as increases the value of your home. There are many…

What Columbia Homeowners Need to Know about Vinyl and Laminate Flooring

If you are trying to find a way to dramatically improve the look and feel of your Columbia home, you should consider installing new flooring throughout your living spaces. Although people often overlook the impact that flooring has, it has a immense effect on the overall aesthetics of your property. Two great flooring options that…
If you are looking for a Baltimore, MD Flooring Company then please call 410-643-5000 or complete our

Online Request Form