Professional Lisbon Flooring Installation and Repair Experts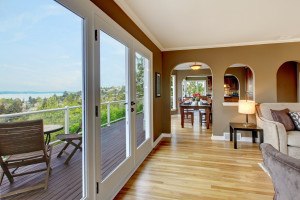 One of the biggest priorities any homeowner has is keeping their home attractive and comfortable, and the flooring in your home plays a critical role in doing that. At Shore Side Carpet & Flooring, our professional Lisbon flooring installation and repair experts understand how important your flooring is to your entire home, so we strive to provide each of our customers with the highest quality workmanship and professional customer service possible. Whether you need flooring repairs, refinishing services, or a complete flooring installation, you can always rely on our professionals for the absolute best flooring services possible.
Our flooring experts are all professionally trained and extensively experienced, so when you hire us, you'll always know that your home is in excellent hands. We strive to ensure that every one of our customers is completely satisfied with all of the products and services that we provide, and we'll do whatever it takes to make sure that your flooring is always kept in the best condition possible.
Call us today with any questions that you have about the services we provide, or to schedule your appointment, and we'll be looking forward to assisting you.
Hardwood Flooring Installation and Repairs in Lisbon
Hardwood flooring can be a great addition to any home: it can make your home more attractive and more comfortable, and it will also increase the resale value of your property. Our professionals specialize in providing quality hardwood materials and superior installations. We'll work with you to find the perfect hardwoods for your Lisbon home, then we'll make sure that the flooring is perfectly installed. We've been working with homeowners in the area for over twenty years, and we look forward to adding you to a long list of satisfied customers.
Hardwood flooring can become worn and damaged over the years, especially if it's located in a high traffic area. If you have hardwood flooring in your home that has a lackluster appearance or is warped or scratched, our professionals can help you keep it attractive and in great condition with repair, restoration, and refinishing services.
Lisbon Vinyl and Laminate Flooring
Vinyl and laminate flooring are two of the most durable, attractive, and affordable flooring materials on the market. They're an excellent choice for kitchens or bathrooms, or any other room in which other flooring materials may be damaged by high amounts of moisture. Our professionals can walk you through our wide selection of different styles and designs of vinyl or laminate flooring materials to help you find the perfect flooring for your Lisbon home. After you've made your decision, we'll make sure that your new flooring is installed promptly and professionally.
See What Customers in Lisbon, MD are Saying About Us
Shore Side Carpet & Flooring is not rated in Lisbon yet! Check back soon for reviews and testimonials in Lisbon.
---
If you are looking for a Lisbon, MD Flooring Company then please call 410-643-5000 or complete our

Online Request Form