Highland, MD Flooring Company & Carpet Installers You Can Trust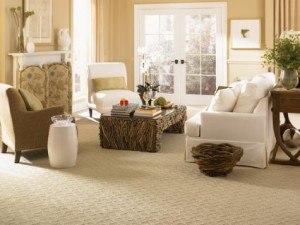 When you're looking around for Highland area carpet or other flooring options, take a look at what we have to offer for your beautiful home. Our options offer you top quality choices from top manufacturers that you'll love. We provide our customers with a first rate experience, first class customers service, highly rated installations, and best quality flooring options in the area. We offer you a wide array of styles, colors, flooring types, and more.
Making changes to your home will make a big impact for you and your family. But it's also important that you have the right installation and can make the right choices in padding and materials. For that, it's best to come to a company that will take the time to see to all your needs. You don't want to shop around at a store that offers you little in the way of support, so come to the pros who work with their customers one-on-one!
New Carpet Installations & Carpet Replacement In Highland
Oh the look and feel of plush, high quality carpeting! You'll simply love your new carpet when you call on our team of professionals at Shore Side Carpet & Flooring. We can help you choose and install the right carpeting, the right padding, and give you expert advice in stain resistant materials that are of high quality for your beautiful Highland home. Trust our pros and give us a call when you need experts to give you the right carpet options and first rate installations.
Highland Hardwood Flooring Installations
If you're into hardwoods, there's no better place to get quality hardwood flooring installations for your Highland area home. Today's options in hardwoods come in beautiful finishes and stains that will enhance your Highland home's aesthetic appeal. Shore Side Carpet & Flooring offers you the most in hardwood floors, which include beautiful options in new bamboo, cork, maple, oak, and more. No matter what decor you have in your Highland home, there's a hardwood floor option that will go wonderfully in your home!
Hardwood Floor Refinishing & Restorations For Highland Area Homes
Over time, your hardwood floor can get dull looking. You and your family spend a lot of time on your hardwood, which means it lovingly stores some of your memories with a few scratches, maybe a gouge or two, and a little beating as the years go on. But there's nothing more beautiful than an old hardwood floor that shows the homeowner's family times and memories.
We can take your dulling hardwood floor and ensure your loving memories stay in tact, yet bring about the original glory of the floor. Trust our Highland professionals at Shore Side Carpet & Flooring and you're sure to get the best restoration you've ever seen in the Highland area!.
See What Customers in Highland, MD are Saying About Us
Shore Side Carpet & Flooring is not rated in Highland yet! Check back soon for reviews and testimonials in Highland.
---
If you are looking for a Highland, MD Flooring Company then please call 410-643-5000 or complete our

Online Request Form