TOP NOTCH HARDWOOD FLOORING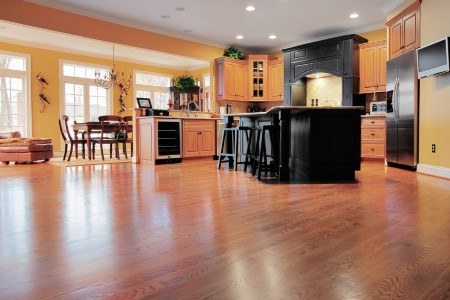 Hardwood flooring is by far one of the most popular and desired flooring types around. Notice how most people always refer to "upgrading to hardwood." This is because real wood offers an aesthetic quality that is very hard to imitate. Rich wood grains offer elegance and class to any design. Whether for your home or your office, hardwood enhances the décor and lends sophistication to a space. When you want the best hardwood flooring options you can find, you need the experts at Shore Side Carpet & Flooring.
With two decades of flooring experience, we have access to the highest quality hardwood floors on the market. Our hardwood choices are simply gorgeous and the vast array of wood types allows for you to find the perfect hardwood floors for your space. We also offer the convenience of in-home or showroom shopping. Rather than have you come to a showroom, we have a design team that will travel to you with samples in hand, ready to help you discover what is right for your design. Being right there with the samples lets you see them next to your current decor, and the creative suggestions made by our designers will really allow you to make a great decision you are happy with.
Once you've found the perfect hardwood option, our installers will quickly and efficiently install your new flooring. We strive to minimize interruption of your environment, so we keep a tidy and contained work area. When we finish the job, we leave nothing but a stunning hardwood floor behind. That is why we are the number one choice in Maryland for hardwood floors.
Some Things You Should Know About Hardwood Floors
Hardwood flooring is one of the most popular floor surface covering materials, and has been for centuries. This is due to its versatility of function and design, as well as an inherent natural charm that gives each installation a unique personality and beauty.
Softwoods and Hardwoods
Softwood Flooring: This includes materials harvested from a variety of trees, most commonly Pine, Fir, and Cedar. These species tend to mature very quickly, and are readily abundant. However their rapid growth leads to the wood itself being less dense, and therefore less durable. This can make it susceptible to dents and scratches. It also makes it harder to refinish, as low spots can rapidly be created by sanding machines.
Despite these drawbacks many people still choose to either expose, or preserve softwood flooring surfaces in their home, due to the beauty, and unique characteristics of the material. The material is also more eco-friendly because it can be locally sourced, and is rapidly renewable.
Hardwood Flooring: The trees that hardwood materials are harvested from grow much slower, and end up being far denser, and more durable than softwood counterparts. This means that they last longer and require less maintenance. The actual durability of species will vary, and is rated by the National Oak Flooring Manufacturers Association (NOMFA) using the Wood Hardness Rating scale.
Hardwood Flooring Design Considerations
One of the great things about hardwood flooring is that it never goes out of style. It's been in use continuously for thousands of years, and despite numerous shifts and changes in style and design, it has survived the test of trends, showing that the look of this material never gets old.
This is largely due to the fact that hardwood is an instant connection between an interior location and the natural world. The feeling of a forest, the essence of a densely thicketed wood, all can be achieved in even the most modern mundane environments.
Unique: Every plank, board, or strip used in a hardwood floor is a unique work of natural art, with it's own individual patterns, and colors. This is compounded by the fact that there are dozens of different species of domestic, imported, common, and exotic hardwoods to choose from, each with their own particular grain, color, and characteristics. That ensures that each installation of this material is a one of a kind feature.
Character: Over time wood is going to change. It will acquire subtle shadings of color, and pick up small scratches, nicks, and dents, which will collect in the surface to create a unique personality for your floor. That is the kind of character that cannot be bought, but can only be attained over the course of years.
Large Spaces: Wood is a particularly good flooring material for large open spaces. That is because the grains and patterns found within its surface will help to break up the monotony of the room, acting as a backdrop, while also working to infuse interest and design into the space. This effect will be compounded by the use of plank, parquet, and small piece decorative hardwood installations.
Hardwood Flooring Prices
Range: $7.00 per square foot – $15.00 per square foot
As you can see, the price for different species of hardwood flooring can vary significantly. However, as always, you are going to get what you pay for. Reputable companies, selling quality, long lasting materials are going to charge more. Further, harder woods tend to take longer to grow, making them scarce and more expensive.
While the initial investment for some of the more durable hardwood floors can be significant, you have to balance this against the fact that these materials will tend to last much longer than other flooring options. Even the softest woods will outlast carpet and cork, while a solid, well maintained oak floor can last for generations.
At the low end of the price range you can purchase softwoods such as pine or cedar for even less than a dollar a square foot. Manufactured plywood sheets are going to be your least expensive option. While these may not be the richest or most high end materials, when well treated and maintained they can provide a space with a rustic beauty.
Our Maryland Hardwood Flooring Expert Services
In-Home Hardwood Floor Design Consultation
Hardwood Flooring Installation
Softwood Flooring
Exotic Hardwood Flooring
Recent Articles
Tips On Making Decisions About Flooring
With so many differty types of floor materials available, it's no wonder homeowners often have trouble making decisions about what type of flooring they want to install. If you're planning to install new carpeting or hard floors in your house, everything is pretty much wide open…
Read More
6 Types Of Carpet Fibers For Your Maryland Home
Did you know there are differences in carpet fibers? Many people will pick out carpeting without knowing there are options. The type of carpet fiber forms the basis of how well the carpeting will stand up, what you can expect from it in terms of strength, how it feels under your feet, and how easy…
Read More